Overview
As online shopping gains rapid popularity post-pandemic, the biggest question in the US is "Amazon vs Walmart." Both retail giants are coming head to head as Amazon grows faster than ever. Walmart, a brick and mortar giant, generates $559 billion annual revenue. While Amazon only generates $386 billion, it is adding over $100 billion in sales year by year. With a fierce new online retail giant as a competitor, Walmart has also been rolling out its own online marketplace incentives to catch up.
So which is the best place to sell in 2021, Amazon, or Walmart? In this article we'll lay out the key differences between them, in fulfillment, fees, profitability and level of competition on each platform.
Selling on Amazon
Selling on Amazon is very easy, sellers simply sign up for a Professional plan which costs around $40 per month. Anyone can become an Amazon seller, even someone with no experience running a business. All Amazon needs is some pertinent details such as seller identity, business address, business licence, tax information and so on. After this, sellers can choose to sell on Amazon through FBA, FBM or both.
Sellers can add their products quite easily to their online store, and add product details & photos. Once it's approved, and you have shipped inventory to an Amazon Fulfillment Center, you're officially selling on Amazon! You can send inventory via direct shipping, dropshipping, or a 3PL, all options are open to Amazon Sellers. However, you can only dropship from your manufacturer or supplier, not another retailer.
Sellers also get access to Amazon Advertising, where they can pay for ads on a pay-per-click basis to promote their products on Amazon.
Selling on Walmart
Selling on Walmart has one key difference, you first need approval before you can sell on the Walmart Marketplace. Walmart will email an "Invitation to Sign Up" for approved sellers, and only then can they create a Seller Account on Walmart Seller Central. Unlike Amazon, Walmart has no monthly fee or charges to maintain a seller account on its marketplace. Sellers are only charged a referral fee per product. After signing up, sellers simply upload items and fulfill their orders.
Becoming an approved Walmart seller is not as easy as becoming an Amazon seller. Walmart is more selective, and it prioritizes sellers with established businesses & e-commerce experience.
One thing to note is that Walmart will not allow Marketplace Sellers to dropship their inventory. Only dropship vendors can do this on Walmart.
Amazon vs Walmart: Fulfillment
Fulfillment by Amazon
When it comes to fulfillment, Amazon has a well-established and robust fulfillment network available to all Amazon Sellers worldwide – FBA. FBA (Fulfillment by Amazon) essentially takes over most of the tasks new sellers struggle with. Selling your products using FBA means Amazon will store, pick, pack, ship and even handle returns for your products. FBA is incredibly convenient and comes with fairly reasonable FBA fees, which depends on your product category and size.
Sellers can also choose FBM, which is Fulfillment by Merchant, if they sell large-size products that they'd get better rates for using a 3PL. Sellers can even use a mix of both FBA and FBM, so fulfillment on Amazon is very flexible.
Walmart Fulfillment Services
In 2020, Walmart launched its own fulfillment network called WFS – Walmart Fulfillment Services. WFS was introduced in direct competition to Amazon FBA, because it offers the same inventory management services. However, one way in which WFS falls short compared to Amazon is that WFS only allows shipments to its fulfillment centers from within the US.
In contrast, Amazon FBA allows you to ship products from anywhere in the world.
Key Differences
Some of the key differences between Amazon & Walmart's fulfillment service requirements:
Amazon vs Walmart: Fees
Amazon and Walmart both have 3 types of fees – referral fees for products, fulfillment fees and storage fees.
Referral Fee Comparison
Amazon has varying product referral fees based on the product category you sell in, as does Walmart.
Amazon's referral fees range from anywhere between 6% to 45% depending on the item type and product category. Amazon also has some other selling fees, like rental book service fees for books, or closing fees of $1.80 per item for products in categories like Books, DVD, Music, Software & Computer, Video Game Consoles & Accessories.
Walmart's referral fees range from 6 to 20% depending on item type and product category, and it has no other selling fees.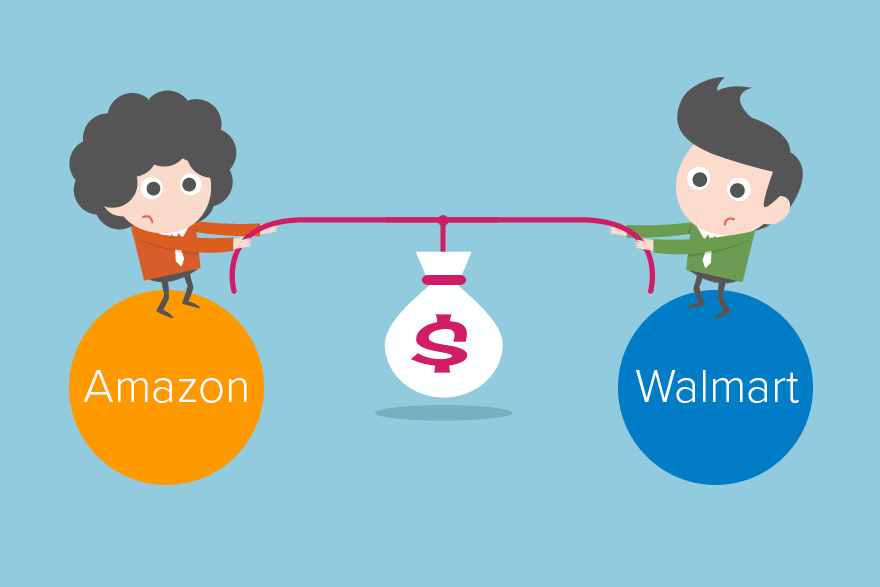 It's clear that when it comes to referral fees that Walmart is the better option. Walmart's referral fees cap out at 20%, but this is also because some product types that can't be sold on Walmart, can be sold on Amazon. One example of this is Custom Products. Amazon allows you to sell custom content in apparel, home decor, accessories etc., but Walmart does not.
It will take a closer look at your product and the types of fees that will apply to see which service is really better for you.
FBA vs WFS: Fulfillment Fee Comparison
Both FBA and WFS have fulfillment and storage fees, and they vary based on product size or dimension tier. The first key difference is Amazon's storage and fulfillment fees vary based on weight & dimensions of each product. Meanwhile, Walmart has fixed storage and fulfillment fees which are based on the shipping weight of the product.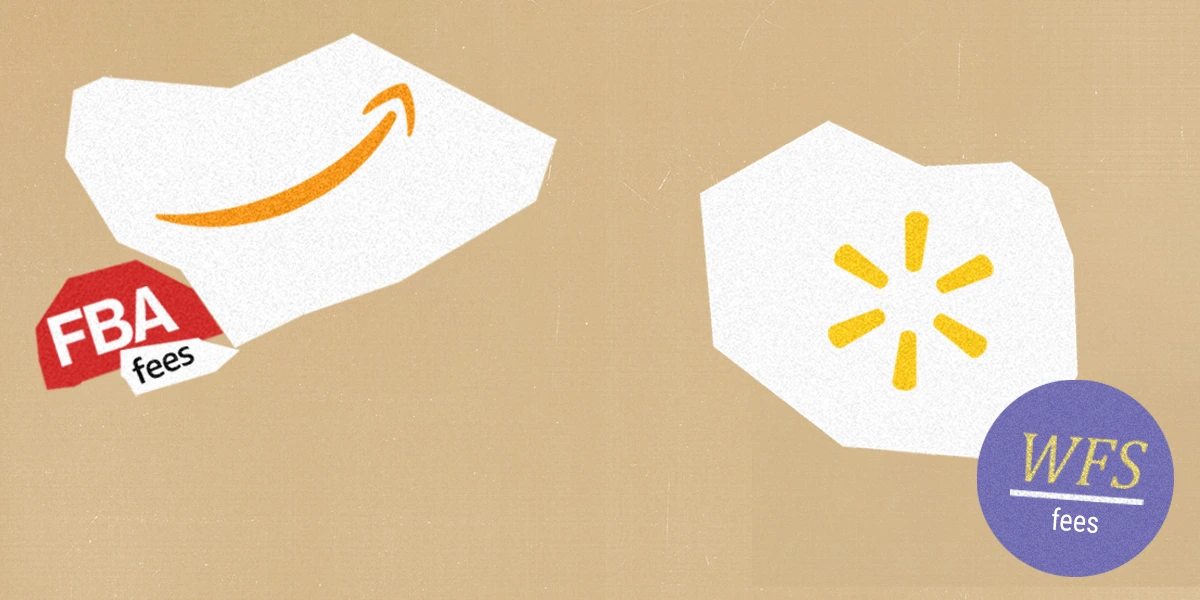 Fulfillment Fee Comparison
Amazon calculates FBA fulfillment fees based on the weight tier a product falls in. Meanwhile, Walmart considers the total dimensional weight of a product. In this case, this means that Walmart's fees are much lower for certain products compared to Amazon. However, for many products, the fees are nearly the same for both.
In order to see fufillment fee breakdowns, you need to have a Seller account on Amazon and Walmart. Thankfully, a comparison made by Helium10 clarified these key differences, through 3 'example' packages:
In this case, we can see that WFS fees are much cheaper for example package #1, but basically on par with FBA for example packages #2 and #3. The main reason for this discrepancy is because example package #1 is an "oversize item" according to the FBA fee structure. Oversize items on Amazon have very high fulfillment fees due to the weight tier fee structure. In comparison, because WFS looks at the dimensional weight only, the fees are lower.
Naturally, these 3 examples aren't a sure indicator of which will be cheaper for you as a seller. For this reason we recommend reading Helium10's article, which provides the cost structure for both FBA and WFS for each product size tier.
Storage Fee Comparison
As for storage fees, Walmart charges essentially the same storage fees as Amazon. The only difference in storage fees occurs in Q4, where Amazon charges noticeably higher storage fees.
WFS storage fees are $0.75 per cubic foot per month year-round, except in Q4 if a product is stored longer than 30 days, there is an additional $1.50 per cubic foot per month.
FBA storage fees have varying amounts depending on product size tier.
As seen above, fees in Q4 for Amazon are significantly higher than Walmart, but only if your product is stored less than 30 days. Once you pass that 30 day storage mark, Walmart's storage fees in Q4 get more expensive than Amazon.
Please note, Amazon also has long-term storage fees that are expensive per-unit fees based on product tier, but this is in cases where inventory has been stored for 180-365 days or more.
Amazon vs Walmart: Competition
Amazon has a far bigger online marketplace than Walmart. According to Marketplace Pulse's latest data, Amazon hosts 1.6 million active sellers, meanwhile Walmart only has about 92,000.
Amazon's market share in the e-commerce market of US is absolutely massive. According to eMarketer, Amazon controls 38.7% of the retail e-commerce sales share in the US, meanwhile Walmart has only 5.3%, even though it has the 2nd largest share in the US after Amazon.
Of course, in terms of competition, this has upsides and downsides. Amazon's gigantic marketplace means sellers get more visibility for their products and a higher potential for conversions to sales. Amazon had 200 million unique visitors to its site in 2019, in the same year, Walmart had 138 million. Unfortunately, a bigger marketplace also means Amazon is saturated with sellers, and it is harder to climb to the top.
In comparison, Walmart is less competitive. There are fewer sellers to compete with and so its easier to climb. However, recall that Walmart is very selective in choosing sellers, which means that most of your competitors are well-established businesses with good business acumen.
Amazon vs Walmart: Profitability
Profitability is what sets Amazon apart from Walmart, due to one important difference. On Amazon, sellers have the freedom to change their product prices to as low or as high as they want without any issues with Amazon TOS. In contrast, Walmart has some price-related rules that must be not be broken.
Firstly, Walmart automatically unpublishes products if the same product can be purchased for cheaper on another website hosted by the same seller. Second, products that are priced higher in a way that purchasing that same product on a competing website would be cheaper (regardless of seller) will also be unpublished. Both these rules include shipping costs.
In this case, Walmart's focus on low prices means less freedom for sellers when it comes to pricing their products. On Amazon, if your product is unique and you have built brand loyalty, you can increase the price above your competitors to make more than you were previously. Undoubtedly, Amazon Sellers have more control over their profit margins than Walmart Sellers do.
Of course, this is a double-edged sword, because your competitors have the same freedom. There will also be instances where competitors price their products so low it's a price you simply cannot beat, so in this case, Walmart may offer some security.
Amazon vs Walmart: Pros & Cons
A quick summary of the pros & cons of selling on Amazon vs Walmart:
Amazon – Pros & Cons
*Note– As mentioned before, dropshipping is only allowed directly from your manufacturer or supplier. Dropshipping from a retailer is not allowed.
Walmart – Pros & Cons
Which Marketplace is Better?
Overall, looking at the pros & cons for each marketplace, Walmart certainly has more cons than pros. Personally, we recommend Amazon FBA for new sellers. If you're a seller with an established business and years of experience managing it, then Walmart is perfect for you. Walmart is a good way to shift a successful brick & mortar business to an online one. Meanwhile, Amazon FBA is perfect for someone new to e-commerce, because it allows more freedoms and leeway.
Final Thoughts
In this article we covered the key differences of selling on Amazon and Walmart. While we personally recommend sellers to go with Amazon FBA, we acknowledge that selling on Walmart has certain benefits as well. In the end, the decision is up to you, the seller and based on what products you want to sell. We hope you found our article helpful and will find it easier to choose between Amazon and Walmart armed with the information we've provided you.
If you have questions or insights to share, please feel free to post them via the comments section. Please also consider joining our Facebook Group where we discuss any questions you may have about running an Amazon business.
We are SellerMetrics, our Amazon PPC Software helps Amazon sellers, brands, KDP Authors and agencies navigate Amazon Advertising PPC via bid automation, bulk manual bid changes, and analytics.