Overview
When it comes to marketing your brand on Amazon, there are a lot of different options for sellers. Sponsored Brands, is a popular method, as is using a custom Landing page for your Amazon Store. Another more recent addition to the myriad of ways you can make your brand more discoverable on Amazon is Amazon Posts. Introduced in late 2019, Amazon Posts is a unique brand marketing technique that we will cover in this article.
What are Amazon Posts?
Amazon Posts, currently in beta, is essentially a social media feed for your brand. You can share brand content and lifestyle images without having to spend a dime. Amazon shoppers can scroll through and explore brand feeds to learn more about your brand and find products they're interested in buying, Amazon Posts only appear on Amazon's mobile shopping apps, and look like the example below.
So what is a "feed"? If you've used Instagram, Facebook or Twitter, your feed is essentially the scrollable list of posts on your dashboard. On Amazon, your brand's feed is a custom list of all your "shoppable" Posts. What this means is, when a shopper clicks on a Post in your brand feed, it will take them directly to the product detail page it links to. The best part is, you can post as often as you want, and at no cost!
The basic format can be seen in the screenshot, there's a header with your brand name & logo, your image, a caption and a category tag. You can customize all of these except for the category tag, which is assigned by Amazon based on product relevancy.
Where do Amazon Posts show up?
Amazon Posts are still in beta. For now, Posts can show up in these places:
Product detail page – on this page your posts will show up in the carousel at the bottom, which shoppers can scroll through horizontically, these contain posts from different brands including your own
Related products/posts – shoppers are lead to this feed if they tap on a post within the product detail page carousel, they can see posts from your brand and others in this vertical feed
Brand feed – this is your own personal feed for your brand which contains all of your posts, shoppers can scroll through
Category feed – all posts have "category tags" which place them on the Posts feed for a particular category, these will also contain posts from various brands, including yours
Like you can see below, posts from 3 brands are appearing in the "related products" section on Amazon. This is one of the more useful placements. Many customers will scroll down to "related products" on mobile to find better deals. This is where related posts can come in handy.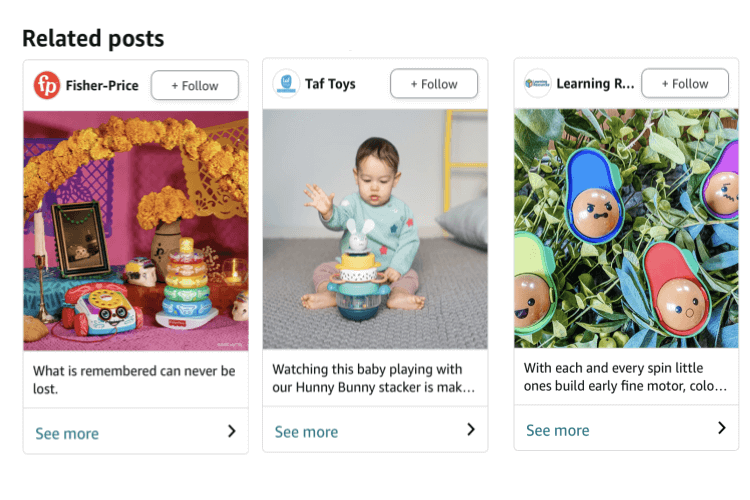 Unfortunately, you can't choose when and where your Posts appear, that is up to Amazon. Amazon automatically places your posts based on relevance and how much customer engagement they receive.
Who can use Amazon Posts?
Currently Amazon Posts are only available in the US market. Naturally, you can only access and use Amazon Posts if you're registered in the Amazon Brand Registry, or if you are a vendor. You don't have to advertise or use Amazon PPC to be able to use Posts, since it is free of cost, but you obviously need to be selling a product on Amazon.

Eligibility requirements for Amazon Brand Registry in the US are:
A registered trademark certified by USPTO (United States Patent & Trademark Office)
Status of registration must be issued & active i.e. a live application in the principal reigster
Text-based marks that can be either:

1 – Typeset Words/letters/numbers
4 – Standard Character Mark

Image-based marks that can be either:

3 – An illustration or drawing which includes words/letters/numbers
5 – Words/letters/numbers in a stylized form
Note- Amazon DSP users can also use Amazon Posts, but they can't use it without an advertising console account.
Why should you use Amazon Posts?
If you're already using Amazon PPC to run Sponsored Brands, then you may wonder, what's the point of using Amazon Posts? Let's take a look at what Amazon Posts can offer you:
Free of Charge
Amazon Posts are free of charge, so all you really need is a little time and manpower to use this feature. When it comes to marketing, more is better. Why not supplement your paid ads with some social media marketing on the side? There is also no limit on how frequently you can post. From 5 posts a week to 5 a day, the freedom is yours.
Brand Presence
Amazon Posts is a fantastic way to maintain brand presence & increase brand awareness amongst Amazon shoppers. Imagine having a social media feed directly on Amazon marketplace itself…. That's what Amazon Posts is! You can post lifestyle posts with attractive imagery that will make shoppers tap on your posts. These posts then take them directly to your product page.
It gives them more insight into what your brand is, and a good feed may even inspire brand loyalty.
Discoverability
Over 150 million users use Amazon Mobile, it's one of the most popular shopping apps in the US. That's 150 million users who will be able to see your brand's Posts feed. Using Amazon Posts can make your brand more discoverable on Amazon. Not only this, but in the digital age consumers respond well to social media.
Over 50% of US shoppers buy products they learned about on social media, so if even 50% of those 150 million users take the time to look through your feed, that's already boosted your brand discoverability by a lot.
Split Testing
You can measure the metrics of your Posts, including impressions & engagement rates. This will tell you what's working and what isn't. You can split-test different types of lifestyle images, or brand imagery to find the perfect formula to build your brand. Amazon Posts can also serve as a way to test out images you create for Enhanced Brand Content. If they are engaging, you can add them to your listing itself later on.
Amazon Posts allows you more freedom when it comes to your post designs, than listing photos do. There are less restrictive rules, so you can experiment more with your designs.
Beat Competitors
While it's true that you can't choose where your Posts go, it doesn't mean they can't show up in some valuable places. Yes, Amazon Posts doesn't provide the same certainty as SP Product Targeting, or running Sponsored Display ads… But there is always the distinct possibility that your Post might end up on a competitor's listing!
The more relevant your Post is to the product category, the more likely your Post will show up under "Related Posts."
Be the First
Since Amazon Posts is still in beta, it means more features are going to be rolled out. Be the first to take advantage of these. Some of the new features Amazon has already added in 2021 include being able to create posts that feature more than one product. This means you can display product variations & complimentary bundles in your Posts.
You can also now schedule posts ahead, and download reports of Post analytics & metrics. When even more new exciting features roll out, guess who'll be the first in line to use them? You!
How do you use Amazon Posts?
Convinced? You can start Amazon Posts right away if you're already a Brand registered seller. Start by going to posts.amazon.com and hitting that "Get started" button.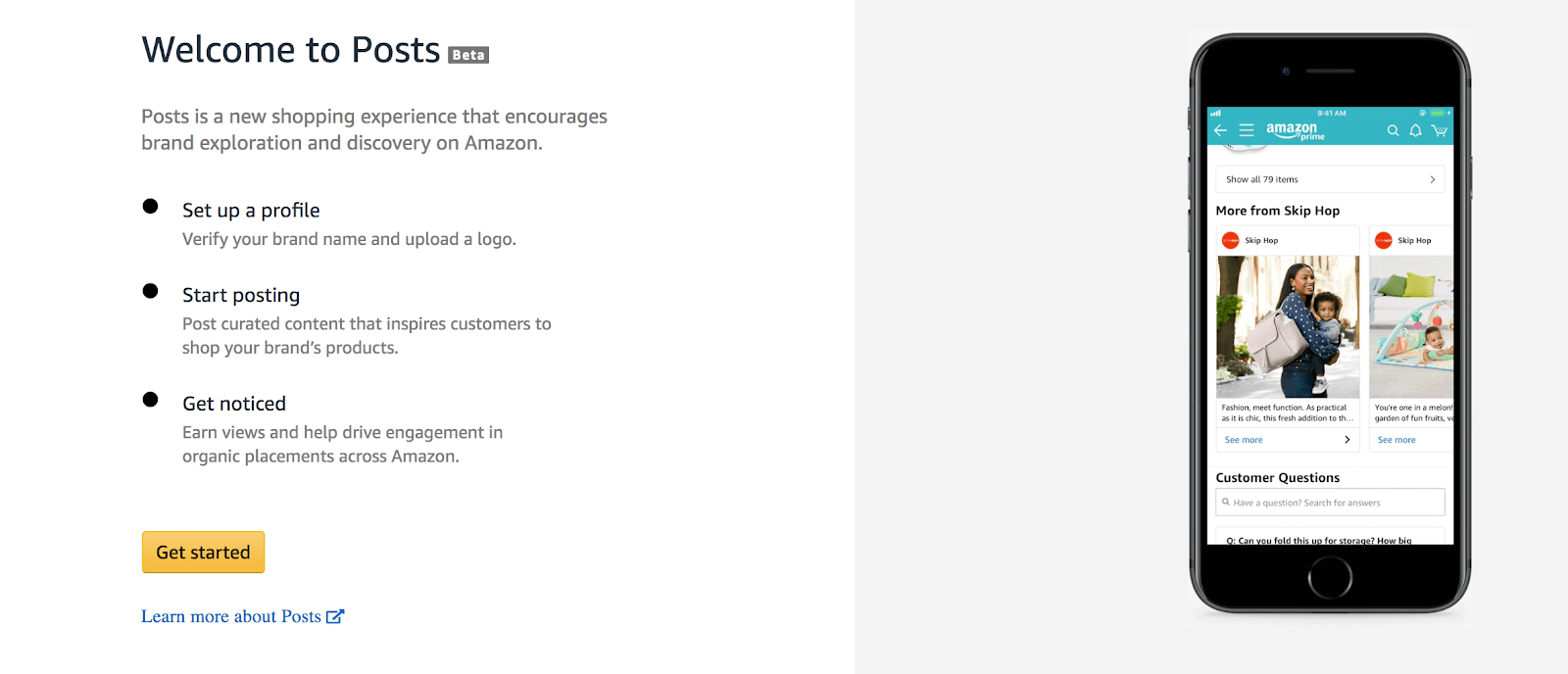 After this you'll be taken through a fairly easy-to-follow interface:
Select the brand you want to promote as your Profile
Enter the profile name, and upload a profile logo, These will form the header of your posts
Click submit & continue, and then you can start creating posts!
When it comes to creating the post. You can add a lifestyle photo and a caption. Make sure your image matches the dimensions Amazon requests, and make your caption short & engaging! Under products, be sure to list some ASINs of related products so that Amazon knows what category tags to add to your post.
After you've entered all this, Amazon will approve your posts. Sometimes they may not get approved, this will usually be due to image size, so make sure to follow the dimensions stated (a 640×320 png/jpg or larger!). If you're still having trouble you can check out Amazon Posts creative policies.
If you aren't certain how to make your post engaging, Amazon offers some tips in a sneaky little link that you might have missed.
This is one of 5 tips offered by Amazon, you can flip through them for a brief idea on how to make your Posts stand out more. Don't be afraid to think out of the box, Amazon Posts aren't like product listings! Try to convey your brand in the most creative way possible.
Final Thoughts
All in all, we believe Amazon Posts are a useful supplement to your Amazon PPC ads. These are a different form of marketing that appeals to mobile app users, that all sellers should at least try out. If you're afraid you don't have enough time or manpower to manage both your Amazon PPC and Amazon Posts feed, you can leave the Amazon PPC heavy lifting up to an Amazon PPC software like ours. We hope you found this article helpful & convincing!
If you have questions or insights to share, please feel free to post them via the comments section. Please also consider joining our Facebook Group where we discuss any questions you may have about running an Amazon business.
We are SellerMetrics, our Amazon PPC Software helps Amazon sellers, brands, KDP Authors and agencies navigate Amazon Advertising PPC via bid automation, bulk manual bid changes, and analytics.